Pichu (SSBM)/Forward smash
From SmashWiki, the Super Smash Bros. wiki
Jump to navigation
Jump to search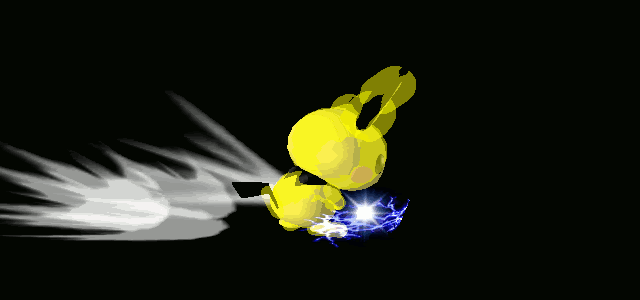 Overview
[
edit
]
Pichu charges electricity from its cheek pouches before leaning forward and aggressively releasing it. This move, coming out on frame 16 and ending on frame 49, is one of its most useful versatile tools. Pichu's forward smash is difficult to tech thanks to its long duration, low hitboxes, and great knockback potential.
Application
[
edit
]
Forward smash excels at edgeguarding fast-fallers such as Fox, Captain Falcon, and Falco, where Pichu can use its low hitboxes to make recovering an arduous task. This is especially prominent if characters like Falco are unable to sweetspot the ledge, making it far easier for Pichu to edgehog. The move's sourspots can be used to surprise the aforementioned fast-fallers near the ledge, which can cause them to flub their recovery and subsequently self-destruct. The move can also be used after a jab reset, where Pichu can capitalize off their tech animations. Pichu is able to more effectively pressure opponents near the ledge, since their options are more limited there. Lastly, Pichu can use it as a situational neutral tool, allowing it to circumvent its difficulty in landing the move otherwise. Pichu's forward smash, while potent as an edgeguarding tool, is rarely seen elsewhere, as it fails to protect Pichu from hits above or behind it, which can allow the opponent a free punish. Using it to call out ledge invincibility positions is risky, since this can lead to prediction battles for Pichu.
Overall, Pichu's forward smash excels at its niche in advantage, while the move's applications elsewhere requires players to carefully practice in order to fully synergise it with its other moves, like its neutral aerial or Thunder Jolts.
Hitboxes
[
edit
]
ID
Part
Damage

SD

Angle

BK

KS

FKV

Radius
Bone

Offset

Clang

Rebound

Effect

G

A

Sound
Hits 1-5
0
0

2%

0
10
50
0
3.991932
0
0.0
4.6872
8.9838
Shock
1
0

2%

0
10
50
0
4.323942
0
0.0
4.6872
16.0146
Shock
2
0

2%

0
10
50
0
5.323878
0
0.0
4.6872
22.6548
Shock
Hit 6
0
0

6%

0
90
140
0
3.991932
0
0.0
4.6872
8.9838
Shock
1
0

6%

0
90
140
0
4.323942
0
0.0
4.6872
16.0146
Shock
2
0

6%

0
90
140
0
5.323878
0
0.0
4.6872
22.6548
Shock
| | |
| --- | --- |
| Charges between | 13-14 |
| Hits 1-5 | 16-18, 19-21, 22-24, 25-27, 28-30 |
| Hit 6 | 31-33 |
| Animation length | 49 |
| | | | |
| --- | --- | --- | --- |
| | | | Pichu's moveset |
External links
[
edit
]