Peach (SSBM)/Forward aerial
From SmashWiki, the Super Smash Bros. wiki
Jump to navigation
Jump to search
This article or section may require additional technical data.
You can discuss this issue on the talk page or edit this page to improve it.
Overview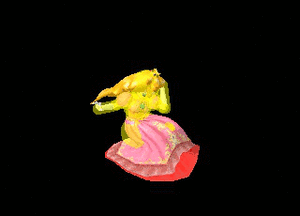 Peach takes her crown off her head and swings it in front of her. This is her most powerful aerial, and is very useful for KOing opponents off the side blastlines. However, it is her slowest aerial, and is usually float cancelled, otherwise it can lead to Peach getting punished while in the landing lag. Therefore, her forward air is incredibly useful when float cancelled and can be used as a combo finisher if spaced correctly. This move is also a reason why Peach counters the Ice Climbers, because she can float cancel it to easily send Nana(or Popo) to his or her demise.
Timing
Attack
| | |
| --- | --- |
| Initial autocancel | 1-15 |
| Hitbox | 16-20 |
| Ending autocancel | 39 |
| Interruptible | 51 |
| Animation length | 54 |
Landing lag
| | |
| --- | --- |
| Animation length | 25 |
| L-cancelled animation length | 12 |