Marth (SSBM)/Grab
From SmashWiki, the Super Smash Bros. wiki
Jump to navigation
Jump to search
Overview
[
edit
]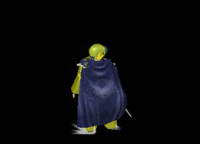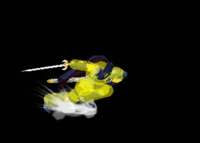 Marth's grab is the longest non-tether grab in Melee, and the fourth longest grab in the game. It is a staple part of his metagame, as many of Marth's most potent combos and setups stem from his high-utility throws; often, Marth achieves his biggest possible conversions off of a grab, and his grab range makes these setups very consistent. The long range also allows him to chain grab the space animals more consistently than almost any other character can, besides possibly Fox himself. Marth's dash dance grab is particularly strong, and is one of his best neutral game options, as he can cover multiple spacings with his long dash dance, while further challenging the opponent's space and threatening to put them in unsafe positions with his long grab.
However, Marth's grab does come with downsides. Like many grabs, it has noticeable endlag, making it punishable when whiffed. Additionally, while his grab may extend a long distance, Marth's grounded grab actually cannot reach some crouching characters, most notoriously Jigglypuff, which means it is not a foolproof approach option. Despite these flaws, Marth's grab is still one of his greatest advantages over other characters, and players utilize this move in their neutral and punish games at all levels of play.
His dash grab is able to grab behind of him, but doesn't extend out as far out in front of him and has more starting and ending lag. As such, Marth players will usually want to jump cancel a dash into a standing grab instead of dash grabbing in most scenarios.
Hitboxes
[
edit
]
Standing grab
[
edit
]
ID
Part
Damage

SD

Angle

BK

KS

FKV

Radius
Bone

Offset

Clang

Rebound

Effect

G

A

Sound
0
0
0%
0
0
100
0
3.906
0
0.0
8.2026
12.8898
Kick
1
0
0%
0
0
100
0
3.906
0
0.0
7.812
9.765
Kick
2
0
0%
0
0
100
0
3.906
0
0.0
7.4214
7.0308
Kick
Dash grab
[
edit
]
ID
Part
Damage

SD

Angle

BK

KS

FKV

Radius
Bone

Offset

Clang

Rebound

Effect

G

A

Sound
0
0
0%
0
0
100
0
3.906
0
0.0
7.4214
14.0616
Kick
1
0
0%
0
0
100
0
3.906
0
0.0
7.0308
9.765
Kick
2
0
0%
0
0
100
0
3.906
0
0.0
6.6402
5.4684
Kick
2
0
0%
0
0
100
0
3.906
0
0.0
6.6402
1.5624
Kick
| | |
| --- | --- |
| Grab | 7-8 |
| Animation length | 30 |
Dash Grab
[
edit
]
| | |
| --- | --- |
| Grab | 10-11 |
| Animation length | 40 |