Jigglypuff (SSBU)/Forward throw
From SmashWiki, the Super Smash Bros. wiki
Jump to navigation
Jump to search
Jigglypuff forward throw hurtbox and hitbox visualization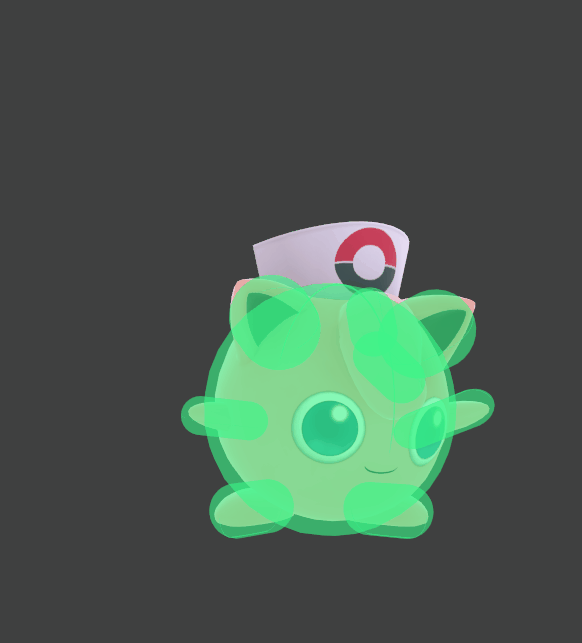 Overview
[
edit
]
Jigglypuff puffs up quickly, similarly to a balloon, launching the opponent in front of it and then deflates. Thanks to the 2.0.0 and 6.0.0 updates, it sends the opponent at a deadly angle offstage that forces the opponent to burn an option, which Jigglypuff can easily take advantage of. It's poor at killing, but due to how easily it sets up for edgeguards, it's widely considered Jigglypuff's best throw and is vital to a variety of different matchups. Center-stage, it's less useful, but can still set up for a tech situation at low percents, which could lead to getting a variety of punishes.
Update History
[
edit
]
Forward throw launch angle altered (55° → 50°), now sending people into a more desirable angle for edge guarding.
Forward throw launches at a much lower angle (50° → 35°), greatly improving its edgeguarding ability.
Throw and Hitbox Data
[
edit
]
ID
Part

Rehit rate

Damage

SD

Angle

Angle type

BK

KS

FKV

Set weight

Radius
Bone

Offset

H×

SDI×

T%

Clang

Rebound

Effect
Type

G

A

Sound
Direct

Hit bits

Hit part

Blockable
Reflectable
Absorbable
Flinchless

No GFX

Heedless

Hitbox
0
0
0
5.0%
0

Standard

40
110
0
10.6
bust
0.0
0.0
0.0
1.0×
1.0×
0%
None
All
All
Kind
ID
Damage
Angle

Angle type

BK

KS

FKV

H×

Effect
Type
Sound
Throw

Throw

0
5.0%

Forward

103
30
0
0.0×
None

Break

0
3.0%

Forward

40
100
0
0.0×
None
| | |
| --- | --- |
| Invincibility | 1-12 |
| Hitbox | 10-11 |
| Throw Release | 12 |
| Interruptible | 36 |
| Animation length | 35 |