Ivysaur (SSBU)/Neutral attack/Hit 2
From SmashWiki, the Super Smash Bros. wiki
Jump to navigation
Jump to search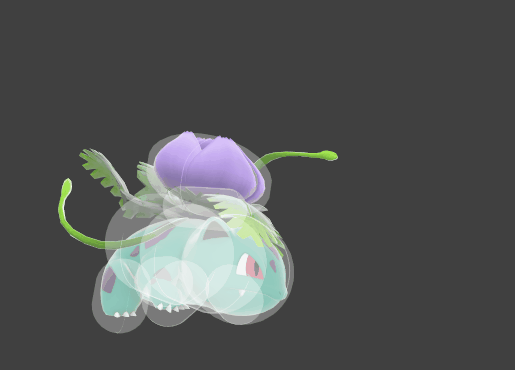 Overview
[
edit
]
Hitboxes
[
edit
]
ID
Part

Rehit rate

Damage

SD

Angle

Angle type

BK

KS

FKV

Set weight

Radius
Bone

Offset

H×

SDI×

T%

Clang

Rebound

Effect
Type

G

A

Sound
Direct

Hit bits

Hit part

Blockable
Reflectable
Absorbable
Flinchless

No GFX

Heedless

0
0
0
2.0%
0

Forward

25
25
0
3.0
top
0.0
3.6
7.0
1.0×
1.0×
0%
Punch
All
All
1
0
0
2.0%
0

Forward

25
25
0
3.0
top
0.0
3.6
10.5
1.0×
1.0×
0%
Punch
All
All
2
0
0
2.0%
0

Forward

20
20
0
3.0
top
0.0
3.6
14.0
1.0×
1.0×
0%
Punch
All
All
3
0
0
2.0%
0

Forward

20
15
0
3.0
top
0.0
3.6
17.5
1.0×
1.0×
0%
Punch
Fighter only
All
4
0
0
2.0%
0

Forward

20
15
0
3.0
top
0.0
3.6
17.5
1.0×
1.0×
0%
Punch
All
All
Upon reaching the continuability window, the move transitions into the rapid jab if the button has been pressed and released at least 3 times since the neutral attack's first hit.
The consecutive jab loops back to the first hit.
Hitboxes
5-6
Continuability
Pressed repeatedly
8-27
Held on hit
10
Consecutive jab frame
20
Interruptible
28
Animation length
34
Ivysaur is the only character in Ultimate to have a consecutive jab out of the second hit of their jab, rather than the first.
| | | | |
| --- | --- | --- | --- |
| | | | Ivysaur's moveset |