Shulk (SSBU)/Neutral aerial
From SmashWiki, the Super Smash Bros. wiki
Jump to navigation
Jump to search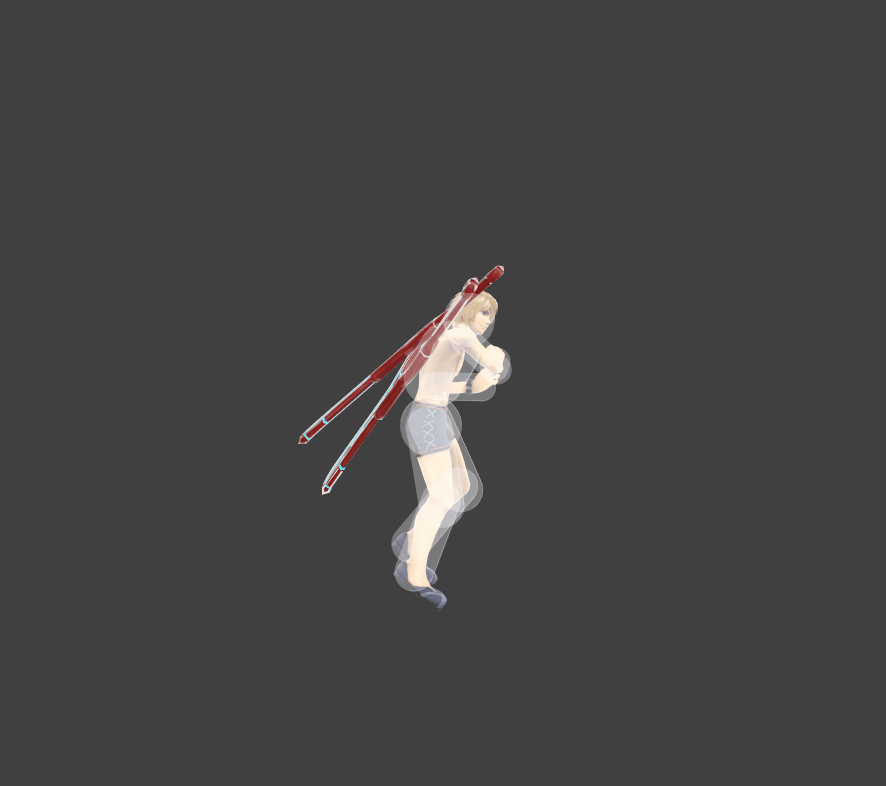 Overview
[
edit
]
Shulk performs a circular slash around him with the Monado. One of Shulk's best moves as the move covers a full 360° around him which makes it an excellent move for spacing, approaching, preventing opposing approaches, and ledgetrapping as it can effectively cover all ledge options. Additionally, the move has a long duration of 18 frames, large hitboxes, and very low landing lag with only 6 frames of landing lag making the move incredibly safe on shield even when sourspotted. This allows it to start combos in Speed art as Shulk's decreased jump height and faster falling speed allow him to quickly land after performing the move and the move's incredibly low landing lag allows him to follow up with another neutral aerial or a forward aerial which can potentially take the opponent all the way across the stage. It can also start combos in Buster art courtesy of the lowered knockback. These combo punishes can deal absurdly high damage due to Shulk's increased damage output. Lastly, due to its long duration, it can punish air dodges and nullify certain projectiles.
Despite having many advantages, the move is not flawless. Similarly to Shulk's other moves, it has very slow startup as it comes out on frame 13, making it the second slowest neutral aerial in the game with only R.O.B.'s neutral aerial being slower. Additionally, the hitboxes at the beginning of the move begin behind Shulk and do not hit opponents in front of him until the later frames. Because of this, it should rarely if ever be used in close quarters as Shulk will be punished the majority of the time since his opponents' attack will usually come out before his will. While it has very low landing lag, its ending lag in the air is extremely high and makes Shulk highly vulnerable to combos and juggles although Shield art can help with this. Its high ending lag also makes it risky to use offstage as there is a possibility that Shulk will not be able to recover back to the stage, especially if he doesn't have access to Jump art. Lastly, the move has one more detriment. During the late animation of the move, Shulk sticks his leg out horizontally which slightly increases his hurtbox and makes him susceptible to punishes he would have avoided otherwise. This takes away from its otherwise excellent spacing potential as although the move is fantastic for creating distance between Shulk and his opponent, it also makes him easier to hit if missused.
Overall, the move is a staple in Shulk's moveset due to its myriad of potent strengths including its combo starting ability, huge hitboxes, spacing potential, long duration, and low landing lag. Combined with its ability to punish air dodges and nullify many projectiles, it has outstanding utility both offensively and defensively. However, players must not use the move carelessly in order to take advantage of its benefits as they may find themselves in a position where they are vulnerable to an SD if accidentally used offstage at the wrong time or a position where they are vulnerable to punishment.
Hitboxes
[
edit
]
ID
Part

Rehit rate

Damage

SD

Angle

Angle type

BK

KS

FKV

Set weight

Radius
Bone

Offset

H×

SDI×

T%

Clang

Rebound

Effect
Type

G

A

Sound
Direct

Hit bits

Hit part

Blockable
Reflectable
Absorbable
Flinchless

No GFX

Heedless

0
0
0
8.5%
0

Standard

40
100
0
5.0
swordr
2.0
0.0
0.0
1.0×
1.0×
0%
Slash
All
All
1
0
0
8.5%
0

Standard

40
100
0
5.0
swordr
5.5
0.0
0.0
1.0×
1.0×
0%
Slash
All
All
2
0
0
7.5%
0

Standard

40
100
0
5.0
swordr
11.0
0.0
0.0
1.0×
1.0×
0%
Slash
All
All
| | |
| --- | --- |
| Initial autocancel | 1-2 |
| Hitboxes | 13-30 |
| Ending autocancel | 54- |
| Interruptible | 60 |
| Animation length | 79 |
Landing lag
[
edit
]
| | |
| --- | --- |
| Interruptible | 7 |
| Animation length | 19 |
| | | | |
| --- | --- | --- | --- |
| | | | Shulk's moveset |