Samus (SSBM)/Up tilt
From SmashWiki, the Super Smash Bros. wiki
Jump to navigation
Jump to search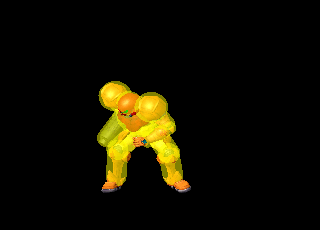 This article or section may require competitive expertise.
You can discuss this issue on the talk page or edit this page to improve it.
Overview
[
edit
]
A fairly tall and long reaching axe-kick that serves as one of Samus's most versatile grounded moves. This attack has different properties against airborne and grounded opponents: against the former it launches them away at a low-horizontal angle, making it an effective KO and edgeguarding tool; against the latter it is a Meteor Smash, easily combo'ing into her Smash Attacks and Neutral Air at various percents. With decent vertical and horizontal reach it makes for a good (albeit somewhat slow) poke and a moderately effective anti-air. It can also reach through some low side-platforms, such as on Fountain of Dreams and Yoshi's Story, giving it some niche applications for platform tech chasing.
Hitboxes
[
edit
]
ID
Part
Damage

SD

Angle

BK

KS

FKV

Radius
Bone

Offset

Clang

Rebound

Effect

G

A

Sound
0
0
13%
0
40
100
0
5.0778
14
-0.66402
0.0
0.0
Kick
1
0
13%
0
40
100
0
5.0778
14
6.2496
0.0
0.0
Kick
2
0
12%
0
40
100
0
5.0778
14
-0.66402
0.0
0.0
Kick
3
0
12%
0
40
100
0
5.0778
14
6.2496
0.0
0.0
Kick
| | |
| --- | --- |
| Hitbox | 14-17 |
| Interruptible | 35 |
| Animation length | 39 |