Marth (SSBU)/Neutral aerial
From SmashWiki, the Super Smash Bros. wiki
Jump to navigation
Jump to search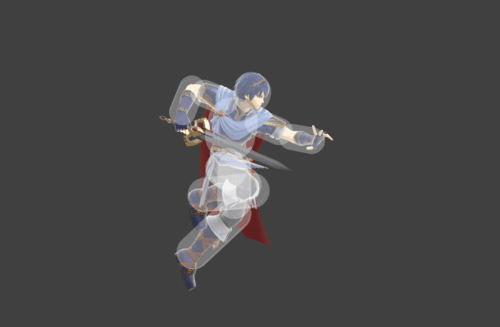 Overview
[
edit
]
Marth's neutral aerial can essentially be used anytime and lead to results. In the neutral game, Marth can short hop and fast fall during neutral air to safely cover space while slowly advancing. When approaching, neutral aerial is also Marth's safest move in that it has the lowest ending lag. When the latest active frame of the fast falled second hit strikes an opponent's shield at maximum range, it is essentially impossible to shield grab Marth, especially if Marth buffers a defensive roll away. Better players, however, avoid using shield grab, and know their best out of shield option(s). Even in these scenarios, Marth's neutral aerial is so safe that if spaced and timed perfectly, very few characters can hope to even tie Marth's fastest follow-ups if they attempt to attack after defending against Marth's neutral air, either because they lack the speed or because these moves lack the range. On the other hand, it is precisely for this reason opponents will often continuously shield. In these scenarios, do not lose patience and continue to look for safe ways to poke at their shield such as down tilt or additional neutral aerials before committing to a grab or resorting to shield breaker. The safest shield pressure after falling neutral air is another (instant, rising, retreating) neutral air.
As a grounded combo starter, fast falling before the second hit comes out (such that only a single hit of neutral air is used) produces one of Marth's few ways of comboing into forward smash. Otherwise, dancing blade is still a fine followup. Alternatively, drifting out with Marth's neutral aerial so the first (non-tipper) hit of neutral air combos into the second (tipper) hit of neutral air provides a more reliable setup than simply fishing for stray tippers.
As an edgeguarding tool, Marth's neutral aerial can be used to catch opponents who are trying to return to laterally to the ledge at ground elevation. This type of recovery does not appear naturally, but should be forced by threatening a forward air earlier in the game. Neutral air can also be used to catch opponents who are attempting to land on middle height platforms as a low risk, medium reward option. Characters with teleport recoveries such as Mewtwo and Palutena are common examples here. Neutral aerial is also one of Marth's best ledgetrapping tools, as it has sufficient range to avoid being hit by many ledge getup attacks, while possessing enough active frames to potentially punish neutral getup.
Hitboxes
[
edit
]
ID
Part

Rehit rate

Damage

SD

Angle

Angle type

BK

KS

FKV

Set weight

Radius
Bone

Offset

H×

SDI×

T%

Clang

Rebound

Effect
Type

G

A

Sound
Direct

Hit bits

Hit part

Blockable
Reflectable
Absorbable
Flinchless

No GFX

Heedless

Hit 1
0
0
0
3.5%
0

Standard

45
50
0
3.8
sword1
1.0
-1.3
1.6
0.7×
1.0×
0%
Slash
All
All
1
0
0
3.5%
0

Standard

45
50
0
4.0
armr
-1.5
1.0
-1.5
0.7×
1.0×
0%
Slash
All
All
2
0
0
5.0%
0

Standard

35
50
0
3.3
sword1
1.0
-1.3
7.2
1.25×
1.0×
0%
Marth Sword
All
All
Hit 2
0
0
0
7.0%
0

Standard

50
90
0
3.8
sword1
1.2
-1.1
1.5
0.7×
1.0×
0%
Slash
All
All
1
0
0
7.0%
0

Standard

50
90
0
4.0
armr
-2.0
1.0
-1.6
0.7×
1.0×
0%
Slash
All
All
2
0
0
9.5%
0

Standard

60
100
0
3.4
sword1
0.8
-1.1
7.0
1.25×
1.0×
0%
Marth Sword
All
All
| | |
| --- | --- |
| Initial autocancel | 1 |
| Hit 1 | 6-7 |
| Hit 2 | 15-21 |
| Ending autocancel | 47- |
| Interruptible | 50 |
| Animation length | 49 |
Landing lag
[
edit
]
| | |
| --- | --- |
| Interruptible | 8 |
| Animation length | 27 |