Marth (SSBU)/Down tilt
From SmashWiki, the Super Smash Bros. wiki
Jump to navigation
Jump to search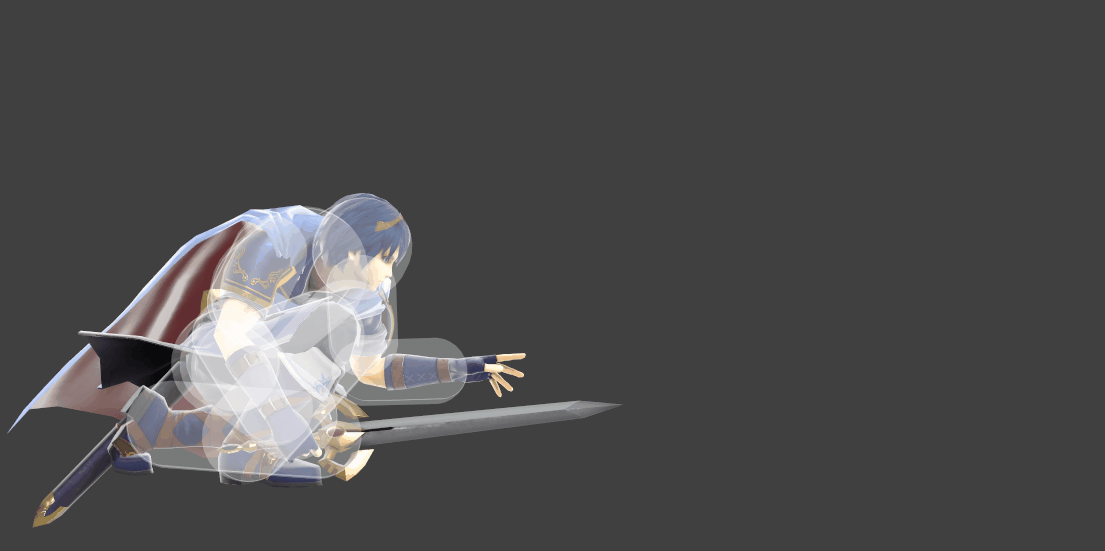 Overview
[
edit
]
Marth's down tilt is one of his safest poke tools that also leads to any kind of meaningful reward. If an approach is stuffed, at lower percents this often leads to a tech chase situation if a dash is buffered as soon as possible. This leads to the following follow-ups:
If no tech or tech in place occurs, an additional down tilt or down smash can be applied to either continue inflicting damage or end a stock.
If a tech rolls occur, either a forward tilt (more reliable) or forward smash (less reliable) can be used to end a stock.
The latter scenario is potentially hard to execute correctly, relying on a high reaction speed or a hard read. Therefore, one backup strategy is to down tilt again anyway and react thereafter. Sometimes Marth will be able to dash into forward air in the correct direction to stuff mashing or grab to punish habitual shielding.
At mid to higher percents, depending on the opponent's directional influence, Marth may instead attempt to follow up with a dash into neutral air or forward air. Sometimes this does not combo, in which case overshooting or feigning the approach should be anticipated to avoid being shield grabbed.
Down tilt is a deceptively underwhelming tool for edgeguarding low recoveries. The more eminent method of edgeguarding either involves leaving the stage itself to attack directly with an aerial, or using ledge trump into back air for a near-stage edgeguarding option. Regardless, it still has usage as an edgeguarding tool. In particular, there are a great many recoveries that move a character linearly, often towards the ledge, but which do not immediately grab the ledge immediately on contact. In this case, down tilt can be used to determine whether this timing is even possible to exploit, however forward smash has a tendency to hit slightly below the ledge, allowing for a strong punish if the opponent's recovery fails to grab the ledge.
Update History
[
edit
]
The tipper hitbox of down tilt is larger, and sourspot has been slightly shrunken (16.7u → 15.7u), making it easier to land the sweetspot.
Hitboxes
[
edit
]
ID
Part

Rehit rate

Damage

SD

Angle

Angle type

BK

KS

FKV

Set weight

Radius
Bone

Offset

H×

SDI×

T%

Clang

Rebound

Effect
Type

G

A

Sound
Direct

Hit bits

Hit part

Blockable
Reflectable
Absorbable
Flinchless

No GFX

Heedless

0
0
0
7.0%
0

Standard

40
40
0
2.7
top
0.0
2.7 to 4.4
15.7 to 9.2
0.7×
1.0×
35%
Slash
All
All
1
0
0
10.0%
0

Standard

50
40
0
2.7
sword1
0.0
0.0
8.2 to 7.2
1.25×
1.0×
35%
Marth Sword
All
All
| | |
| --- | --- |
| Hitboxes | 7-8 |
| Interruptible | 24 |
| Animation length | 49 |
The move has a 35% trip chance that can only happen on slants due to the launch angle.