Luigi (SSBB)/Hitboxes
From SmashWiki, the Super Smash Bros. wiki
Jump to navigation
Jump to search
Hitboxes
[
edit
]
Hurtboxes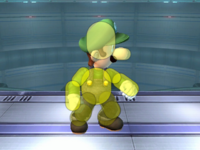 Color Legend
Types
Effects
Typeless
Head
Butt
Hand
Foot
Throwing
Spin
Normal
Flame
Luigi's Hitboxes
Neutral

Hit 1

Hit 2

Hit 3
F-Tilt

Angled up

Angled side

Angled down
U-Tilt
D-Tilt

On grounded opponents

On aerial opponents
Dash

Hits 1-6

Hit 7
U-Smash
D-Smash

Hit 1

Hit 2
F-Smash

Angled up

Angled side

Angled down
Nair

Clean

Late
Fair
Bair

Clean

Late
Uair

Part 1

Part 1

Part 2

Part 2
Dair
Shield
Grab

Standing

Running

Pivot
Pummel
F-Throw
B-Throw

Swing Collision

Throw
U-Throw
D-Throw
Floor (back)

Hit 1

Hit 2
Floor (front)

Hit 1

Hit 2
Floor (trip)

Hit 1

Hit 2
Edge (<100%)
Edge (100%+)
Neutral Special
(Fireball)
Side Special
(Green Missile)
Up Special
(Fire Jump Punch)
Down Special
(Luigi Cyclone)
Final Smash
(Negative Zone)
D-Taunt
The angle of a hitbox is displayed as a line. For hitboxes with the Sakurai angle, a star shape (*) is used instead. Note that all angles are based on what side of the attacker the target is on - if the target is on the opposite side of the attacker, they will fly in the opposite direction (but at the same angle). Most presented angles assume the target is on the right of the attacker, unless the attack is obviously on the attacker's left.

An angle indicated with a dash (-) is another special angle with unconfirmed properties; the best guess right now is that its angle is the same as the direction of travel of the user.

A transcendent hitbox is denoted by a dashed border.
The colour of a hitbox is its type; the colour of its angle indicator and border is its effect.
The numbers represent each hitbox's damage and knockback (base knockback/knockback scaling), as well as whether the knockback is fixed.