Lucina (SSBU)/Neutral aerial
From SmashWiki, the Super Smash Bros. wiki
Jump to navigation
Jump to search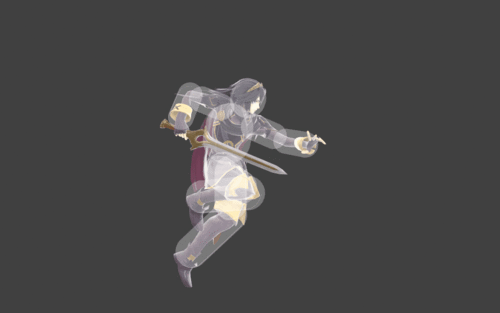 Overview
[
edit
]
Lucina's Neutral Aerial is one of her fastest aerials and a very fast move overall (out at frame 6).
It is also one of her most versatile moves, with excellent shield safety (hits are -4 and -3 on shield respectively), but also great KO potential compared to the rest of her kit (killing a midweight like Chrom around 100% at Battlefield's ledge) ; on top of that, if hit while falling, the first hit can confirm into a forward tilt and even a forward smash at all percents, which might be her best kill confirm overall.
However, this move can be a bit unreliable in some situations, most importantly when used while rising from a full hop opponents can fall out of hit (get hit by the first hit but not the second one). Less importantly, the hitboxes behind lucina hit pretty high up, making it almost impossible to hit a grounded opponent with them, making the move less useful out of shield (specifially against crossups) than it may seem.
Hitboxes
[
edit
]
ID
Part

Rehit rate

Damage

SD

Angle

Angle type

BK

KS

FKV

Set weight

Radius
Bone

Offset

H×

SDI×

T%

Clang

Rebound

Effect
Type

G

A

Sound
Direct

Hit bits

Hit part

Blockable
Reflectable
Absorbable
Flinchless

No GFX

Heedless

Hit 1
0
0
0
4.275%
0

Standard

45
50
0
3.8
sword1
1.0
-1.3
1.6
1.0×
1.0×
0%
Slash
All
All
1
0
0
4.275%
0

Standard

45
50
0
4.0
armr
-1.5
1.0
-1.5
1.0×
1.0×
0%
Slash
All
All
2
0
0
4.275%
0

Standard

35
50
0
3.3
sword1
1.0
-1.3
7.2
1.0×
1.0×
0%
Slash
All
All
Hit 2
0
0
0
8.55%
0

Standard

55
95
0
3.8
sword1
1.2
-1.1
1.5
1.0×
1.0×
0%
Slash
All
All
1
0
0
8.55%
0

Standard

55
95
0
4.0
armr
-2.0
1.0
-1.6
1.0×
1.0×
0%
Slash
All
All
2
0
0
8.55%
0

Standard

55
95
0
3.4
sword1
0.8
-1.1
7.0
1.0×
1.0×
0%
Slash
All
All
| | |
| --- | --- |
| Initial autocancel | 1 |
| Hit 1 | 6-7 |
| Hit 2 | 15-21 |
| Ending autocancel | 47- |
| Interruptible | 50 |
| Animation length | 49 |
Landing lag
[
edit
]
| | |
| --- | --- |
| Interruptible | 8 |
| Animation length | 27 |
| | | | |
| --- | --- | --- | --- |
| | | | Lucina's moveset |