Link (SSBM)/Dash attack
From SmashWiki, the Super Smash Bros. wiki
Jump to navigation
Jump to search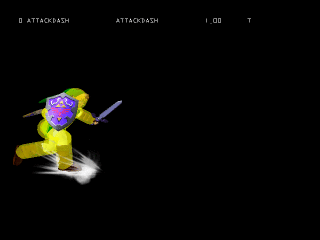 This article or section may require competitive expertise.
You can discuss this issue on the talk page or edit this page to improve it.
Overview
[
edit
]
Link does a diagonal slash as he dashes forward. An excellent whiff punishing option due to having decent speed, good range, and high combo potential, easily confirming into his up tilt or up aerial against many characters. The hitbox starts quite high, making it very effective for challenging aerials that don't have disjoints. It is also a functional tech chasing option at high percents when the opponent cannot ASDI-down tech it. It is, like most dash attacks, very punishable on block and whiff. One of Link's best moves.
Hitboxes
[
edit
]
ID
Part
Damage

SD

Angle

BK

KS

FKV

Radius
Bone

Offset

Clang

Rebound

Effect

G

A

Sound
3
0
9%
0
10
100
0
4.2966
26
4.6872
0.0
0.0
Slash
0
0
12%
0
10
100
0
4.2966
26
1.953
0.0
0.0
Slash
1
0
11%
0
10
100
0
2.7342
23
0.0
0.0
0.0
Slash
2
0
11%
0
10
100
0
1.953
19
0.0
0.0
0.0
Slash
| | |
| --- | --- |
| Hitboxes | 7-12 |
| Interruptible | 40 |
| Animation length | 53 |