Jigglypuff (SSB)/Up tilt
From SmashWiki, the Super Smash Bros. wiki
Jump to navigation
Jump to search
Overview
[
edit
]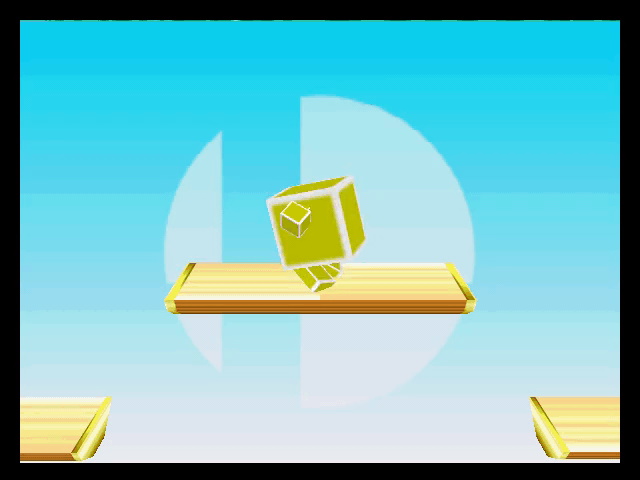 Jigglypuff performs a vertical kick, very similar to Kirby's up tilt. Compared to Kirby's however, Jigglypuff's is noticeably slower and weaker. The move does not come out until frame 7 and it has an FAF of 24 (3 and 6 frames slower than Kirby's respectively). The move also always deals 10% and has lower knockback than Kirby's, in addition to sending opponents away from Jigglypuff rather them towards, making it a worse combo tool at lower percents and a worse KO move at higher percents.
Despite its shortcomings compared to Kirby's version, up tilt is still a very effective move in its own right. Due to its low knockback and ending lag, up tilt is a very strong combo tool beyond low percents, being able to easily chain into itself, as well as Jigglypuff's other moves. This can either lead into a long combo or a KO confirm, even at high percents. Even at very low percents where the move has no guaranteed followups, the move is at least safe on hit, preventing Jigglypuff's opponent from punishing it. The move also has great range (albeit less than Kirby's), with the move being noticeably disjointed, making it a good option to stuff out approaches. The move is also completely safe on shield at +4 frames. While this does not allow for the same shield pressure Kirby's does, it still leaves Jigglypuff at a solid advantage and if the move is landed during its later frames, it is even safer, allowing it to lead into a guaranteed grab.
Overall, while it is an inferior version of Kirby's up tilt, Jigglypuff's up tilt still remains one of the better up tilts in the game.
Hitboxes
[
edit
]
ID
Part
Damage

SD

Angle

BK

KS

FKV

Radius
Bone

Offset

Clang
Effect

G

A

Sound
0
0
10%
0
10
100
0
140
28
0
0
0
Kick
1
0
10%
0
10
100
0
160
28
140
0
0
Kick
| | |
| --- | --- |
| Hitboxes | 7-14 |
| Animation length | 23 |
Similar moves
[
edit
]