SmashWiki:12TP/Smash Bros. DOJO!! 13
From SmashWiki, the Super Smash Bros. wiki
Jump to navigation
Jump to search
---
[Seventh-level]
Smash Bros. DOJO!! 61-65
- Don't overlook the dark horse! -
- CPU player difficulty -
- Theory of flight distance -
- Throw counter -
- Magnifying sniper -
---
#61 [Info] Don't overlook the dark horse!
If you watch a four-player game, you might find a coward.
It could be someone who only attacks high-damage opponents,
or who only runs away during stock matches...
こういう「黒いヤツ」はスポーツ的なもの、もっと言えば「あそび場」には必ずある要素。
So,
それに気がつきみんなでボコボコにするのも、




非難の声をあびせてみるのも、




やめろと注意してみるのも、




ちょっと同じことをしてみるのも、




それもルールといさぎよくするのも、

すべて自由。
それは個々のあそび場でバランスを取ろう。
とにかく勝敗などよりも、楽しくあそべるのが一番。
▲
---
#62 [Other] CPU player difficulty
CPs (computer players) are clever in some areas but not in others.
個々のワザの中には、CPがよく反応するワザとそうでないワザがあるので、あまり反応しにくいワザをぼちぼちと使うようにすると、苦しいCP戦をしのぎやすくなっていく。
全体的に飛び道具にはぼちぼち反応するが、突進系には少し弱い傾向がある。
Examples of rush system:

Super Jump Punch, Screw Attack, Hip Drop, Stone, Falcon Kick, PK Thunder body hit
CPは刹那的な判断をするため、誰がどこでストーンの準備をしたから逃げる・・・というような状況判断をあまりしないためだと思われる。
Humans and CPs are different, so a strong character for or against one may not be for the other, and vice versa.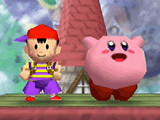 ▲

These guys' Stone and PK Thunder (body hit) are hard to react to,




so they should be strong against CPs.
▲
---
#63 [Tactics] Theory of flight distance
With Kirby and Jigglypuff, each double jump will reset their falling velocity.
With that in mind, consider the following to get the longest flight distance.
(For vertical distance)

Upon reaching the apex of each jump, use the next jump.
(For horizontal distance)

Rather than rise continuously, fall a short distance (until maximum falling speed if possible) before using the next jump.
なんとなくは感覚でつかめるものの、見直すと意外にベストポイントを狙えていなかったりするので、一考の余地はあるかも。
もちろん空中ジャンプも同じ。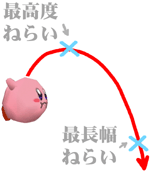 ▲

In this case, you want to keep height while gaining distance.




Using moves such as Pound can also be effective.
▲
---
#64 [System] Throw counter
It's a pretty effective technique to grab an enemy that has just attacked your shield.
However, a throw used just after having one's shield hit will do half damage.
This is in accordance with the tactic's low risk.
By the way, the recoil received when a shield is hit is based solely on the attack's power.
▲
---
#65 [Tactics] Magnifying sniper
The frame attached to offscreen characters is called a "magnifying glass".

←this
You're not always invincible in a magnifying glass, so one could throw a sneak attack at you.
Anyone can throw an item. Height can be adjusted by jumping. Another example is Charge Shot.
(there are many other ways to damage such opponents)
To hit a magnified enemy, experience and intuition is necessary. キレイにしてやられた側は、ひとことほめてあげよう。
As said before, you can try to avoid this.
▲
---