Smash-Fest
From SmashWiki, the Super Smash Bros. wiki
Jump to navigation
Jump to search
This article is about the event that took place at Best Buy stores. For the type of competitive tournament, see Tournament.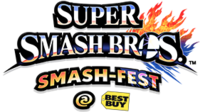 Smash-Fest was an event held at Best Buy stores across Canada and the United States. Events were held on June 11th and 14th of 2014, which gave players the opportunity to play both the Wii U and 3DS versions of Super Smash Bros. 4, making it one of the first times the game was playable in public.
The 3DS demo was limited to the Smash Run mode and versus matches against three computer players, while the Wii U demos allowed players to participate in two minute time matches with others, using stages and characters previously featured in the Super Smash Bros. Invitational.
Some Best Buy locations also distributed commemorative coins to some players at the events, by either arriving early or by pre-ordering the game from the specific store; other assorted merchandise was also given to players, including lapel pins, stickers, and AR cards.
Top: The front and back of the limited edition coin distributed to the first 70 (35 in Canada) people in line at each event.
Bottom: Pins given out to participants for Super Smash Bros. for Wii U.
See also
[
edit
]