Prima Games
From SmashWiki, the Super Smash Bros. wiki
Jump to navigation
Jump to search
Prima Games
Type
Limited
Founded
1990's
Industry
Publishing
Products
Video Gaming Strategy Guides
Parent
Asteri Holdings (current)
Penguin Random House (former)
Website
[1]
Prima Games is the largest publishing company of video game strategy guides in the United States of America and Europe. The company was originally an imprint of the Random House Information Group, based in Roseville, California. In November 2018, Random House announced that Prima would close down. However, on March 14, 2019, Asteri Holdings purchased Prima, shuttered the print division and restructured the division to be distribute entirely digital.[1] Prima are renowned for creating Official Strategy Guides for video games, including the Super Smash Bros. series.
In the Super Smash Bros. series

[

edit

]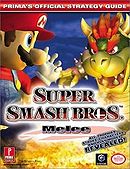 Prima Games are responsible for the creation of the Official Strategy Guide for Super Smash Bros., Super Smash Bros. Melee, Super Smash Bros. Brawl, Super Smash Bros. 4 and Super Smash Bros. Ultimate. These books go into detail of strategies, character biographies, stage information and other miscellaneous pieces of Smash Bros.-related information, but are also fairly infamous for featuring noticeable mistakes, such as a false claim that Ike's Quick Draw can be canceled. Prima Games' Super Smash Bros. Brawl Official Strategy Guide is also mocked by competitive players for its more causal ranking of the game's characters, with an example of such ranking being how Meta Knight, currently reigning at the top of the fan-made tier list in Brawl, is rated 6/10, on par with Ganondorf, the character at the bottom of said tier list. While the Super Smash Bros. Ultimate guide has been well-received in comparison and features in-depth explanations of advanced mechanics, much of the information on veteran characters is based on their viability and gameplan in Super Smash Bros. 4, for example citing Bayonetta's overpowered and controversial status and explaining how to perform her SSB4 combos despite her severe nerfs and much more difficult combo game in Ultimate.
References
[
edit
]