Tournament
:
Battle of the Five Gods
From SmashWiki, the Super Smash Bros. wiki
Jump to navigation
Jump to search
Battle of the Five Gods
Dates
March 17th-19th, 2016
Venue
Austin Convention Center
Address/City
500 E Cesar Chavez St
Austin, Texas
Attendance
20
Entry fees
—
Pot size(s)
Melee singles: $25,000
Results
winners
 Hungrybox
Staff
Organizer(s)
SXSW Gaming
Battle of the Five Gods was an invitational supermajor Super Smash Bros. Melee tournament held in Austin, Texas from March 17th to 19th, 2016, as part of the SXSW Gaming Expo festival. At the time, the tournament had the highest single-player payout in Smash, with $13,000 awarded to Hungrybox for winning the tournament.
The name of the tournament references the five "Gods" attending, namely Armada, Hungrybox, Mang0, Mew2King and PPMD.
Tournament summary
[
edit
]
Battle of the Five Gods was Hungrybox's biggest tournament victory since Apex 2010 six years prior, defeating Armada and Mang0 to win the event. The tourament is often seen as a major turning point in Hungrybox's competitive career, placing him in contention for best player in the world. It was also the first tournament since Apex 2010 that Hungrybox won with all five Gods attending.
Wobbles, Plup, Westballz, Silent Wolf, and MacD all outplaced at least one of the Gods, with Mew2King and PPMD placing 7th and 9th respectively. This was PPMD's lowest tournament placing since Pound 4 in 2010.
This tournament was PPMD's final major, and as such is also the last event to feature all five gods in the same bracket.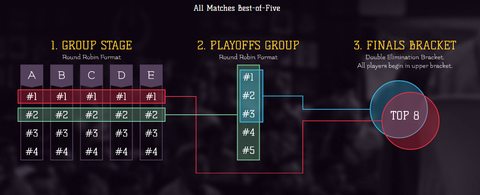 The tournament featured a mixed format, with two qualificatory round-robin group stages and a final Top 8 double elimination bracket. The 20 players were first divided in five round-robin groups. The first placing player of each group was sent directly to the Top 8 bracket, while the second placing players were sent to another round-robin group. The top 3 players from this second group would be sent to the final three spots on the Top 8 bracket.
After the group Top 8 bracket was set, matches were played on a double elimination format. All matches are best 3 out of 5.
Results
[
edit
]
(20 entrants)
Playoffs
Top 8 bracket
External links
[
edit
]