Run turnaround cancel
From SmashWiki, the Super Smash Bros. wiki
Jump to navigation
Jump to search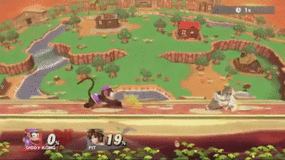 A run turnaround cancel, abbreviated as RTC, is a technique in Super Smash Bros. Brawl and Super Smash Bros. 4. It is done by performing any grounded action from the run turnaround animation, such as a tilt.
While the tech is still present in Super Smash Bros. Ultimate, it doesn't provide much use as every character is able to use grounded moves out of their run.
Application
[
edit
]
In both Brawl and SSB4, RTC is functionally the same. RTC is mainly used as a grounded mixup tool, or to approach with grounded moves. When using RTC, certain moves are more useful than others, as some stop the player's momentum when used while others don't. An example of this would be Charizard's spot dodge and up tilt; his spot dodge stops all forward momentum, while his up tilt doesn't. All characters have different timing to when they can use a grounded move during a run turnaround, some are extremely strict and provide little to no benefit (such as Little Mac or Corrin's run turnaround), and some can be done rather easily and provide a good distance from sliding (such as Ryu or Kirby's run turnaround).
If a run turnaround is performed right at the ledge, characters will move sooner than they would without being blocked off by the ledge, allowing more slide from RTC.
Characters that notably benefit
[
edit
]
External links
[
edit
]