User talk:The Smash Brotha
From SmashWiki, the Super Smash Bros. wiki
Jump to navigation
Jump to search
Hello! The Smash Brotha (talk) 11:00, 28 July 2014 (EDT)
Your forum edits
[
edit
]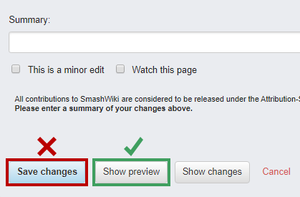 You made over 20 edits in under 25 minutes for your forum talk page to add content. If you know that you're just going to keep on adding content in small bits like that, don't hit the save button until you're sure that you've added in the amount of content that you originally planned on adding. If you're unsure about how something looks, then use the preview button to check it ahead of time. Again, don't make a bunch of small, minor edits when you could have easily just made one big edit.
In addition, it's ideal to use the actual forum page for the intended discussion, rather than the forum talk page. MegaTron1XD

14:49, 30 July 2014 (EDT)
I couldn't find one. The Smash Brotha (talk) 17:00, 30 July 2014 (EDT)
Hi there!
[
edit
]

Welcome to our wiki, and thank you for your contributions! There's a lot to do around here, so I hope you'll stay with us and make many more improvements.
Read this first as it provides many great resources designed to help users get oriented with the wiki and become part of the community.
Visit the recent changes to see what other people are editing right this minute, and where you can help.
Questions? You can ask at the help desk or on the "discussion" page associated with each article, or post a message on my talk page!
Need help? The community portal has an outline of the site, and pages to help you learn how to edit.
I'm really happy to have you here, and look forward to working with you!
Introduce myself
[
edit
]
My name is Arringtastic1992. Nice to meet you! Arringtastic1992 (talk) 20:47, 5 May 2016 (EDT)