Wario's Garbage Dump
From SmashWiki, the Super Smash Bros. wiki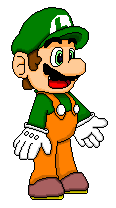 Green Mario
Names you can call me: Green Mario. It can't get anymore obvious than this.
Real Name: Emilie Y.
Age: 15
Gender: Female. No one expects a girl to like Mario, huh?
Favorite Game: Super Smash Bros. Melee Has that green Mario alternate color (which I often play with). This game has survived with me ever since 2001.
Second Most Favorite Game: Spore I love this game, but I sometimes go on "Sporeblock" and there are a lot of bugs.
Favorite Character: MARIO!! My main in all games that he is playable in.
Least Favorite Character: Yoshi. This salamander frog thing has gotten in my nerves ever since Yoshi Story. You would have expect Wario, but noooo, you get this green thing instead. At least Wario is fun to torture with.
Least Favorite Game: I can't decide yet. I play mostly Mario games and like most, if not, all of them. I also play Kirby and Pokemon.
State: California
This is Green Mario.
If you ever see anyone else with the same I.P address as me, it's just my twin sister.
Anyway, I'm not all that new to wikis. I've been on MarioWiki (as LeftyGreenMario) for some time, and I've learned quite a bit on Wikiformat. Since this is my first time here in SmashWiki, I bet the policies here are slightly different than MarioWiki.
[edit]
The Hate Speech About Wario
Oh my goodness. I'm violating a rule.
Awful, yet awesome. I hate Wario and his guts and the rest of his body. Yet I love him too. Before Wario came, there was no one to chuck a smart bomb at. You must imagine how sad the world must have been without Wario. But now, everyone is taking in a new form of entertainment, and that's torturing Wario.
Granted, Wario was never in the first two Super Smash Bros. games, but at least he was in the third (and my least favorite out of the three) game. That stupid, smelly, and ugly freak might had scared Captain Falcon, but he's no match for me. Alas, Wario is high tier. Apparently, that is obviously a typo. Or, that Wario is so fat, he knocks out everyone with his own fart. Meta Knight's mask is probably smell-proof and Snake's nose is broken. That's why they are higher tier than smelly old Wario. Me? I'm a top-tier Wario killer. Any other Green Marios you see are imposters. They can't even learn how to use their left hand. Ha.
Wario is ranked 5th in the tier list. So what? The only thing he needs to win is fat and he has PLENTY of it. He's so fat that if you were to throw a spear at him from any direction, you'd hit him.
Warning! OFF TOPIC
They say Luigi is depressed. However:
Mario rarely smiles in Brawl compared to his games and in Melee (he didn't have a mouth in SSB).
Guess who's more depressed? It doesn't help when you're ranked 31/38 and that you get turned into a trophy the most times. Poor guy. He deserves more love here.
Too late
[edit]
Oh My Goodness a Smash Competency List (or something)
SSBB Competency List
 
 
 
 
 
 
1
 
 
 
 
 
 
 
 
 
 
 
 
 
 
 
 
 
 
 
 
 
 
 
 
2
 
 
 
 
 
 
 
 
 
 
 
 
 
 
 
 
 
 
4
5
6
7
8
 
 
 
9
10
11
12
13
 
 
 
 
 
 
14
15
16
17
18
19
20
 
 
 
 
 
 
 
 
 
21
22
23
24
25
26
27
28
29
30
31
32
33
 
 
 
 
 
34
35
36
37
 
 
 
 
 
 
 
 
 
 
 
 
 
Oh my gosh, what a imaginative list you got there!!
And no, Wario isn't my main. I do not know how many times I have to assert that. Maybe I'll show the characters I use the most some time.
[edit] Pianta: A Mysterious Creature
Just what the heck are these things? Exotic coloration shows that it obviously isn't human. They aren't horses, ospreys, scrub jays, lizards, turtles, snakes, or siamese fighting fish. They must be colored beasts, I guess. Who likes Pianta, anway? Not me. I hope you don't like them either. Have fun trying to find a huge Pianta fan!
All Pianta mysteries are finally uncovered here:
First, and most important, the only living thing in Piantas is that palm tree growing out of its brain. The rest of the thing is just a dead corpse. The tree is manipulating the body.
Its fingers, toes, and neck got conjoined at some point of its life. Gross.
That isn't a nose. It's a separate appendage growing out of its face.
Cutting off the palm tree kills the Pianta.
Photosynthesis is the only source of food for Pianta. The tree needs it for it and the body to last.
What was that repulsive noise that thing uttered? Well, that is still a mystery.
Some uninteresing userspace crap is right here. Criticize it all you want.
[edit]
Super Smash Stuff

I'm not exactly a professional gamer, but nonetheless, I'm a gamer who knows at least what she is doing. I use mostly Mario, but I sometimes veer into other characters, such as Kirby, Link, Ice Climbers, and Fox. My accomplishments aren't vast, but in Melee, I accomplished nearly every darn thing except beating All-Star on Very Hard. Yes, I even accomplished getting that...that darn thing called the Diskun Trophy. Actually, heh, it was my sister who accomplished this, and she used Ness. And Cruel Melee? Don't let me get started on that. I didn't do anything THERE.

Oh, sure, I know how to wavedash, sort of, but who needs wavedashing if all your opponents are CPUs, ready to die at low percentages?

In Brawl, my accomplishments are even more sparse, since my Wii will NOT work when I try to use Pit for whatever reason. Which means I cannot complete the Subspace Emissary, Classic Mode, Event Match, and everything else that requires these modes to unlock. At least I got all the characters. My Wii needs help! I want to kill Pit again. :(

Although Wario is in Brawl, I still prefer the older games to Brawl. I guess my main reason is that Brawl modified so many things and that Mario sucks (I still use him). I'm not the competitive type of person. I prefer items to no items, stage hazards to no stage hazards, 2.0 ratio to 1.0 ratio, etc. You might say, "Hey, Brawl is for the 'casual' people." I don't consider myself "casual" nor "hardcore", so where do I fall? Cascore? Hardsual? Anyway, I still prefer Melee over Brawl since the CPUs are extremely stupid and predictable, the SD system was way better, the Pokémon were much better, and the items simply bring more satisfaction, such as the Parasol.

I don't like tier lists, but I think something like that exists. I never go by the tier list, by the way. I just merely accept its existence.

I discovered this crazy technique in Melee. Well, it's not really a technique, but I think it's crazy. If I make any character grab an opponent and make another character (such as Ness) rapidly hit the opponent continuously (Ness is using his strong down repeatedly), it is impossible for the grabbed guy to break free until he gets killed, the other guys decide to wait for a long time, or if the grabbing guy throws! The grabbed guy's damage can reach all the way to 999%! So far, though, I've tested this on CPUs, but I bet that if CPUs can't break free, nor will professional players...

Some other stuff coming soon!